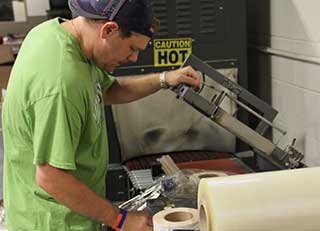 Imagine this – your customer reaches for your product but finds your logo scratched up and bits of dust fall out of the packaging. You've paid for all the market research, testing, packaging design, and distribution but your customer has abandoned it because of inferior packaging. Don't let this happen to your product! Consider using shrink wrapping.
Shrink wrapping is the process of tightly wrapping a thin plastic film around products using automated equipment or manually, and using heat to 'shrink' the plastic, creating a tight, protective barrier. This method can be used to package individual items or as an overwrap that protects packaged multi-packs. Thus, shrink wrapping can be helpful during transportation and while displaying your product on shelves.
But would the additional expense and time be worth it? Yes! Although it costs a little extra time and money, shrink wrapping can save you money in the long run. It is a cost-effective tool to weather-proof products, prevent tampering, and maintain the stability of packages during shipment. Shrink wrapping big batches of products allows them to be loaded on pallets, crates, and flatbed trucks easily – making your products ready for shipment.
When choosing a partner company for shrink wrapping, choose one that has automatic shrink wrapping with a well trained staff. At NJ Packaging Services, in addition to automated shrink wrapping, state of the art equipment, and highly trained staff, you'll be helping employ people with disabilities. We provide high quality shrink wrapping services that will protect your products and give them a clean, professional appearance. No matter what size or shape your products are, our highly trained staff will use stringent quality control measures to ensure that they are shrink wrapped professionally.
With two convenient locations on the east coast – Millville, NJ and New Brunswick, NJ – we can receive/deliver your shipments or pick up/drop off your products within a 75 mile radius. Visit our website https://njpackagingservices.com to learn more.